ADS By Strikecoded:
---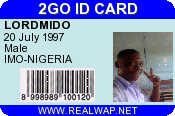 Insert The Required Informations And Click On The Create Card Button To Proceed. A Page Will Be Displayed To You, Click On The Download Link To Download Your 2GO ID Card.
ID Card Colour:

Your Name Here:

Birthday:
- -
Gender:

Location:
*e.g: Imo - NIGERIA

Your Logo | Picture:
*Maximum file size: 250KB
*File support: png, jpg, jpeg, and gif.

View Page Datas

| Data | Loads |
| --- | --- |
| Online | 1 |
| Today's Hits | 1 |
| Total Today's Hits | 2 |
| Total Hits This Week | 3 |
| Total Page Hits | 728 |
| Total Forum Members | 189 |

Close Page Information

FOLLOW US ON